Beathard Engraving is a firearms, knife and jewelery engraving business in Paige, TX (just outside of Austin). This site includes the engravings, stock for sale and services provided by Gerry. There are also services by several other close friends of Gerry. Gunstocks, Grips and Gun Carts are custom made by Jesse Stephens. Mike Green (alias Osage Mike) makes the leatherwork seen on the site.
CASA Cimarron Model P Raffle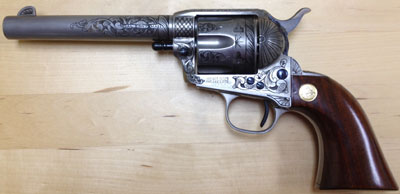 The pistol pictured above is a Cimarron Model P Single Action Army in 357 Magnum. It has been engraved in a deep relief American scroll. The firearm has been finished in a French Gray with black highlights. The firearm is brand new and has never been fired. Tickets for this pistol are available through Gerry or through CASA vounteers. There is a 1 in 800 chance of winning the pistol. Tickets are 1 for $10 or 3 for $25. The drawing will be on May 19th, 2012. The funds will go to CASA: Court Appointed Special Advocates of Bastrop, TX. This organization trains and supports volunteers to represent the best interests of abused and neglected children in the courtroom and other settings. Contact Gerry for tickets.
Feel free looking around our place and contact us with any questions you have about our services.