---
Gallery of Hand Engraved Semiauto Pistols
Hand Engraved Colt 1911 Custom Consecutive Pair Snakeskin Pattern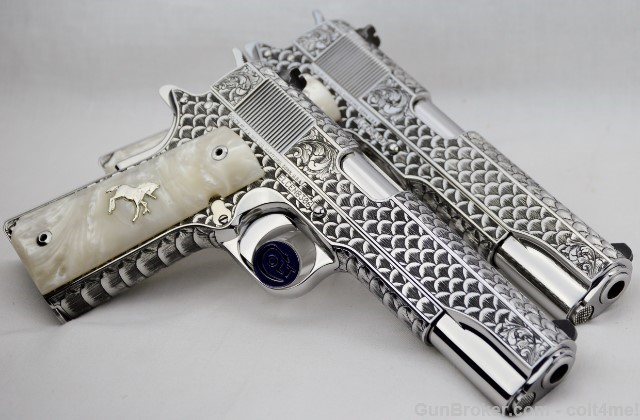 This is a consecutive serial number pair of hand-engraved Colt Customs in 38 super. They are engraved in Gerry's snake scale pattern with traditional American scroll highlights on the frame and slide. The design on these guns looks 3-dimensional. Notice the belly scales on the bottom of each pistol. This set is encased in a Brookfield presentation case with a French fit royal blue liner. More Pictures...
---
Colbert Collection Colt 1911 Officers Model

This is a Colt 1911 Officers sized pistol. The Colbert's requested a lot of coverage. Gerry used American Scroll, Running Leaf and Classic Colt Geometric Patterns on a tasteful pistol that still has alot of flash. More pictures...
---
Colbert Collection Colt Custom 1911 .38 Super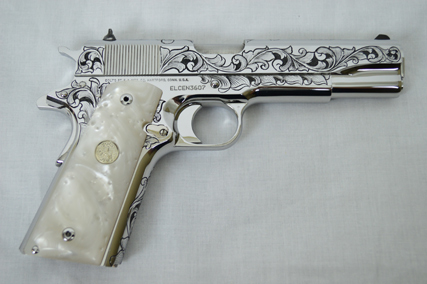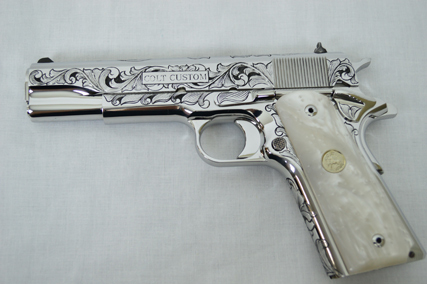 Elegantly Hand Engraved Colt Custom .38 Super. This model features a Bright Stainless Finish. To accent this beautiful gun, the Colerts added a set of Simulated Mother of Pearl Grips with Authentic Silver Colt Medallions & High Polished Hex Screws.More pictures...
---
Haywood Collection Smith and Wesson 1911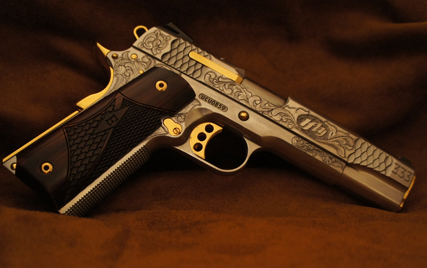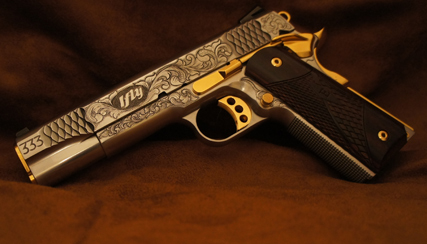 This is a Smith and Wesson 1911. The customer requested two tattoos be recreated on both sides of the pistol. The iFly tattoo was done in relief. The 333 tattoo was done as recessed letters to match his tattoo. Beathard Engraving also gold plated all non-slide and non-frame parts in a bright 24-carat gold.
---
Colbert Collection Colt Custom 38 Super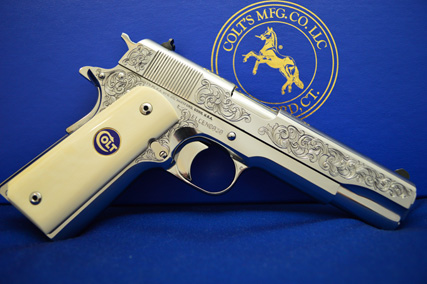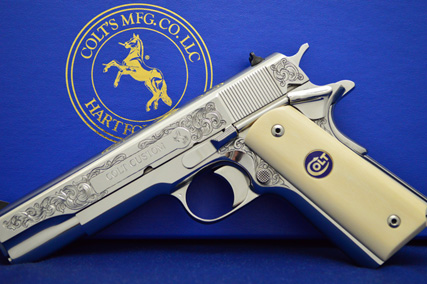 Colt Custom 1911 in 38 Super sporting Bright Stainless and hand engraved American Scroll on the sides of of the slide and the frame. Colt Customs do not have the Rampamnt Colt logo stamped, so I engraved one on the side. This pistol is also sporting an after-market set of ivory grips.
---
Dr. Gerald Beathard's Colt 1991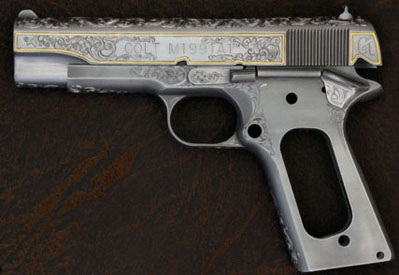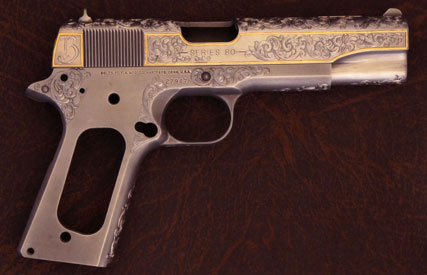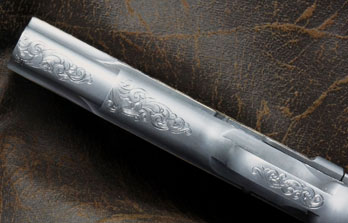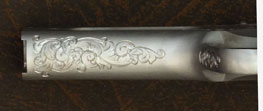 This is a hand engraved Colt 1991A1 Series 80 that was given to my father years ago by my mother. My mother passed away in 2007 from complications during breast cancer treatment. My wife Mary was going through breast cancer treatment in 2013. I decided to engrave the pistol as Dad's Christmas present with a Colt Custom Shop style engraving. The borders used 30 inches of 24K gold. The Rod of Asclepius is .999 fine silver and the snake used almost another 2 inches of gold. These pictures are pre-bluing. The pistol is being blued by Turnbull Manufacturing.
---
Bastrop Sportsmen Award Kimber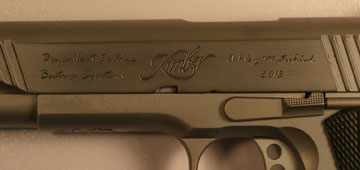 The hand engraved Kimber pistol pictured was awarded to Ashley Mutschink for his benevolent service to the Bastrop Sportsmen organization. He has served in numerous offices, including President of the organization. The board members got together and purchased the pistol. I donated the engraving. The Bastrop Sportsmen organization raises money for the Bastrop Education Foundation.
---